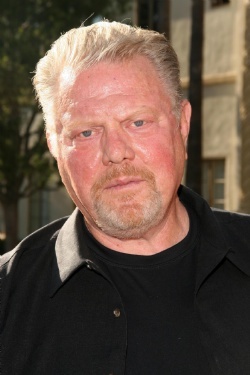 Nasce a Vicksburg, Michigan il 17 Giugno 1941.
Da sempre la sua imponente figura si prestava bene al ruolo di biker, quindi oltre che in Sons of Anarchy, ha interpretato questo tipo di ruolo anche in Hell's Belles -La donna dei centauri nel 1969 e in Wilde Rover-Uomini Selvaggi nel 1971.
La sua carriera e' ricchissima, ha preso parte a film e serie tv di successo. Debutta in TV nel 1968 nella parte di Thomas Flag nella serie televisiva Ironside. Laureato presso l'UCLA – University of California Los Angeles con la specializzazione in letteratura e teatro. Ha fondato insieme a Dana Elcor il Santa Paula Theatre Center.
Attualmente vive a Pasadena. Ha perso la moglie a causa di un cancro al seno, per reagire a questa perdita cerco' conforto nella scrittura, realizzando storie brevi, sceneggiature e un romanzo.
In Sons of Anarchy ha recitato il ruolo di Piney Winston.
Filmografia
Sons of Anarchy (35 episodi, 2008-2010)
The Mentalist (1 episodio, 2010)
Hustle (1 episodio, 2007)
Smith (2 episodi, 2006-2007)
Slipstream – Nella mente oscura di H. (2007)
Cold case – Delitti irrisolti (1 episodio, 2006)
Commander in Chief (1 episodio, 2006)
Night Stalker (1 episodio, 2005)
Indian – La grande sfida (2005)
Enterprise (1 episodio, 2005)
The Division (1 episodio, 2004)
Line of Fire (1 episodio, 2003)
Il tesoro dell'Amazzonia (2003)
Red Dragon (2002) K-PAX (2001)
JAG – Avvocati in divisa (2 episodi, 1996-2000)
Erin Brockovich – Forte come la verità (2000)
West Wing (1 episodio, 1999)
The Last Best Sunday (1999)
L'inglese (1999)
Più forte ragazzi (1 episodio, 1999)
Profiler – intuizioni mortali (1 episodio, 1998)
Pensacola: squadra speciale Top Gun (1 episodio, 1998)
Judas Kiss (1998)
Mike Hammer, Private Eye (1 episodio, 1997)
Star Trek: Deep Space Nine (3 episodi, 1995-1997)
Millennium (1 episodio, 1997)
Jarod il camaleonte (1 episodio, 1997)
La moglie di un uomo ricco (1996)
Effetto Blackout (1996)
E.R. – medici in prima linea (1 episodio, 1996)
The Lazarus Man (1 episodio, 1996)
X-Files (1 episodio, 1996)
Her Last Chance (1996) (TV)
Pacific Blue (1 episodio, 1996)
Walker Texas Ranger (1 episodio, 1996)
Renegade (2 episodi, 1994-1995)
Mike land – Professione detective (1 episodio, 1995)
What Are Friends for (1995)
Episodio TV Marshal (1 episodio, 1995)
Natural Law (1995)
N.Y.P.D. (1 episodio, 1995)
Travels with Andy (1995)
Episodio TV Vanishing Son (1 episodio, 1995)
Sweet Sixteen (1995)
Episodio TV A Father for Charlie (1995) (TV)
L'uomo di sabbia (1995)
The river wild – Il fiume della paura (1994)
Un uomo nel mirino (1994) (TV) (non accreditato)
Squadra investigativa speciale S.I.S. giustizia sommaria (1993)
La signora in giallo (5 episodi, 1986-1993)
Finché morte non vi separi (1993) (TV)
Ti salverò ad ogni costo (1992)
Duplicates (1992) (TV)
2 poliziotti a Palm Beach (1 episodio, 1992)
The Sock Drawer (1992) Episodio TV
Babe Ruth (1991) (TV)
The Young Riders (1 episodio, 1991)
The Blood of Others (1991) Episodio TV
Hell Hath No Fury (1991) (TV)
Colombo (1 episodio, 1990)
Columbo Goes to College (1990) Episodio TV
L'ispettore Tibbs (1 episodio, 1990)
Quick Fix (1990) Episodio TV
Due come noi (1 episodio, 1990)
Parker Kane (1990) (TV)
Identità sepolta (1990)
Sparks: The Price of Passion (1990) (TV)
A Brand New Life (1 episodio, 1989)
Hunter (1 episodio, 1989)
I dimenticati (1989) (TV)
Naked Lie (1989) (TV)
Ladykillers (1988) (TV)
Napoleon and Josephine: A Love Story" (1987)
Fuorilegge (11 episodi, 1986-1987)
Week-end di morte (1986) (TV)
Kung Fu: The Movie (1986) (TV)
J.O.E. and the Colonel (1985) (TV)
A Death in California (1 episodio, 1985)
Simon & Simon (2 episodi, 1983-1985)
The A-Team (3 episodi, 1983-1984)
Jessie (3 episodi, 1984)
Matt Houston (1 episodio, 1984)
Jessie (1984) (TV)
Bay City Blues (1 episodio, 1983)
T.J. Hooker (1 episodio, 1983)
Magnum P.I. (1 episodio, 1983)
M.A.D.D.: Mothers Against Drunk Drivers (1983) (TV)
Bravo Dick (1 episodio, 1983)Supercar (1 episodio, 1982)
I predatori dell'Idolo d'Oro (2 episodi, 1982)
The Blue and the Gray (1982) TV
Voyagers! (1 Episodio 1982)
Seven Brides for Seven Brothers (1 Episodio 1982)
MASH (1 episodio, 1982)
Ralph supermaxi eroe (1 episodio, 1982)
I giorni della nostra vita (1965)
Shannon (1981)
Chips (1 Episodio 1981)
Dallas (1 episodio, 1981)
Stripes, un plotone di svitati (1981)
Vega$ (2 episodi, 1980-1981)
Lou Grant (1 episodio, 1981)
L'incredibile Hulk (2 episodi, 1978-1980)
The Last Song (1980) (TV)
Coast to Coast (1980)
I giganti del West (1980)
Hagen (1 episodio, 1980)
La nona configurazione (1980)
Power (1980) (TV)
Captain America II: Death Too Soon (1979) (TV)
Il transatlantico della paura (1979)
Cuore e batticuore (1 episodio, 1979)
10 (1979)
Happily Ever After (1978)
Dr. Scorpion (1978) (TV)
Big Hawaii (1977) Serie TV
Un trio inseparabile (1 episodio, 1977)
The San Pedro Bums (1977) (TV)
Danger in Paradise (1977) (TV)
Delvecchio (1 episodio, 1977)
La squadriglia delle pecore nere (1 episodio, 1976)
Barnaby Jones (1 Episodio 1976)
La vendetta dell'uomo chiamato cavallo (1976)
Birch Interval (1976)
Mallory: Circumstantial Evidence (1976) (TV)
Una famiglia americana (1 episodio, 1975)
Agenzia Rockford (1 episodio, 1975)
Pepper Anderson agente speciale (1 episodio, 1975)
Doc Savage, l'uomo di bronzo (1975)
Force Five (1975) (TV)
S.W.A.T. – Squadra Speciale Anticrimine (1 episodio, 1975)
Judgment: The Court Martial of Lieutenant William Calley (1975) (TV)
Mannix (1 episodio, 1974)
The Crazy World of Julius Vrooder (1974)
A Tutte le auto della polizia (1 episodio, 1974)
Gunsmoke (1 episodio, 1974)
Chopper One (1 episodio, 1974)
Disneyland (2 episodi, 1974)
Hog Wild (1974) (TV)
Kodiak"  (1 episodio, 1974)
Blood Sport (1973) (TV)
I duri di Oklahoma (1973)
Kung Fu (1 episodio, 1973)
I magnifici 7 cavalcano ancora… (1972)
Ellery Queen: Don't Look Behind You (1971) (TV)
L'idolo (1971) Uomini selvaggi (1971)
Reporter alla ribalta (1 episodio, 1971)
Bonanza (1 episodio, 1970)
Ai confini dell'Arizona (1 episodio, 1970)
La famiglia Partridge (1 episodio, 1970)
Il virginiano (1 episodio, 1970)
Lancer (2 episodi, 1969)
Here Come the Brides (1 episodio, 1969)
Hell's belles la donna dei centauri (1969)
Missione impossibile (1 episodio, 1968)
Ironside (1 episodio, 1968)